History of Tile Artisans Digital Imaging, LLC
Tile Artisans was founded in 1991. We began as fabricators of custom-made silkscreen images on ceramic tile. In 2004, Tile Artisans expanded in affiliation with an advanced technological Italian company and added state-of-the-art digital photographic image transfer technology to facilitate the fabrication of high quality memorial portraits in porcelain and steel as well as image transfer technology to fabricate small and large tile murals. For more than a decade, Tile Artisans has shipped tens of thousands of memorial portraits and tens of thousands of square feet of murals throughout North America.
Our Commitment
To provide permanent memorial portraits, plaques and murals made of the highest quality materials and workmanship and to provide our customers with the very best service.
Unsurpassed Quality
Our proprietary technology combined with the use of ceramic color pigments guarantees the highest standards of color, visual reproduction, quality of imagery, clarity, and durability. All portraits, plaques, and murals are fired at 1650°F to ensure resistance to UV rays, scratching, extreme outdoor climates, and harsh cleaning chemicals.
Warranty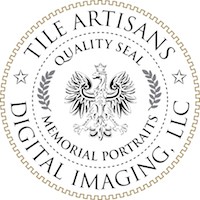 Our memorial portraits are unconditionally warranted for the life of the monuments upon which they are installed and shall be replaced free of charge in the event of a fading, vandalism, breakage, or any defect whatsoever. Our memorial plaques, flat markers, granite urns, murals, and glass mosaics have a lifetime warranty against fading and a five year limited warranty against component failure. See product specifications for more details.
3 Ways to Place an Order:
1. Mail the photo and order form (we will return the photo with the finished portrait) to:
Tile Artisans Digital Imaging
PO Box 786
High Springs, Fl 32655
2. Email the order form and photo to memorials@tileartisans.com
3. Submit an order online. If interested in using our online ordering system, please contact us for a user name and password.
Personalization & Customized Memorial Products